We are so proud of our sweet girls, each one has unique qualities that make her special. They vary in size from 8 1/2 – 13 lbs and personalities range from shy and snuggly to active, social and confident.
Keep in mind we are a small family breeding network, so not all our Crown mamas are listed here. As part of our extended Crown family, our close friends and family all have the same level of quality and the same/similar lines.
Crown Duchess of Cambridge MLC
"Kitty"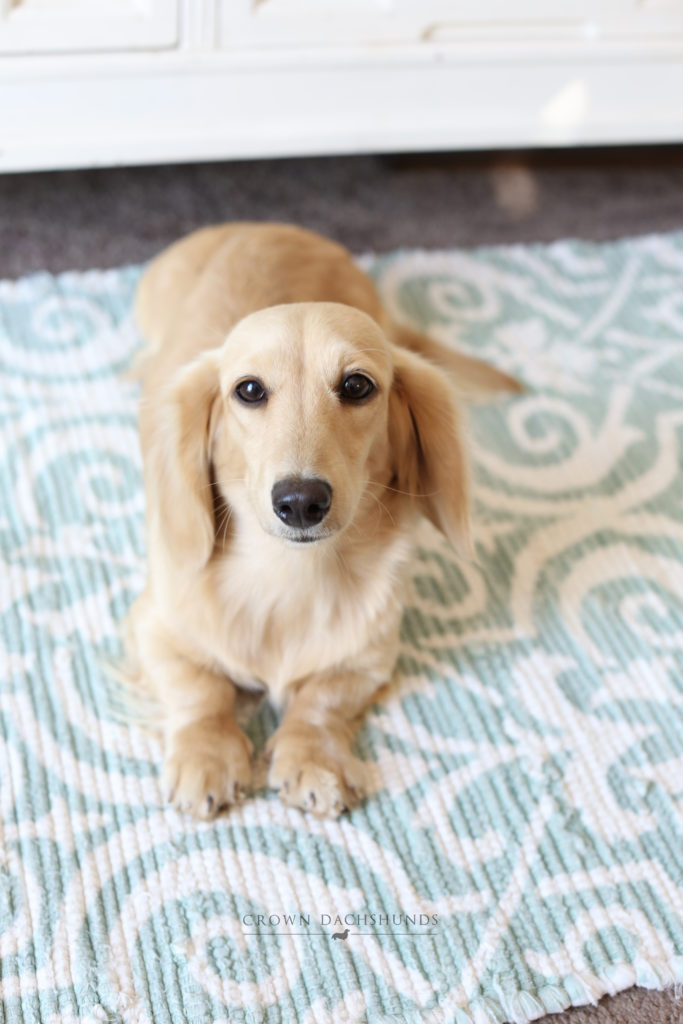 Our playful happy girl Kitty is not only a smart cookie but so so beautiful with perfect conformation and the sweetest eyes. She likes people but LOVES kids. She has the gentlest heart and is a future Crown mama starting in 2020. Kitty is a pale English cream mini long-haired girl and weighs 9 lbs.
Crown Bailey's Princess MLC
"Bailey"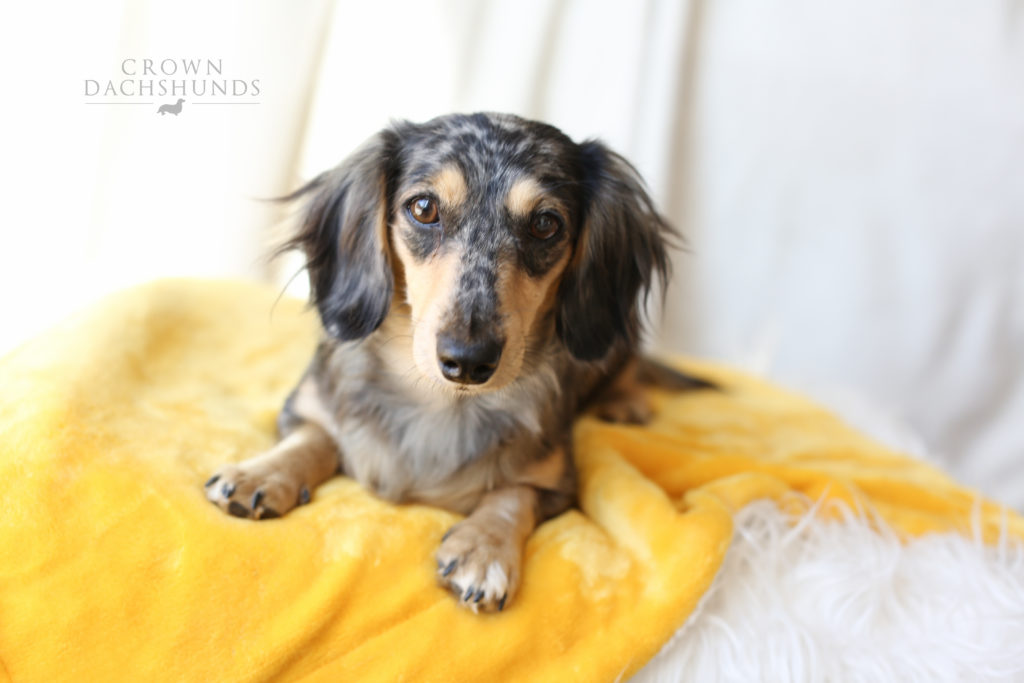 Bailey is a second generation Crown doxie and comes from some really great, loving parents, our now retired Bailey and daddy Julian. She is full of life and is so smart and sweet like her mama. We are excited about her future puppies, (expecting dapples, pale creams and shaded creams). Bailey is a black and cream mini long-haired dapple and weighs 9.5 lbs.
Crown Elizabeth's Castle MLC
"Lizzie"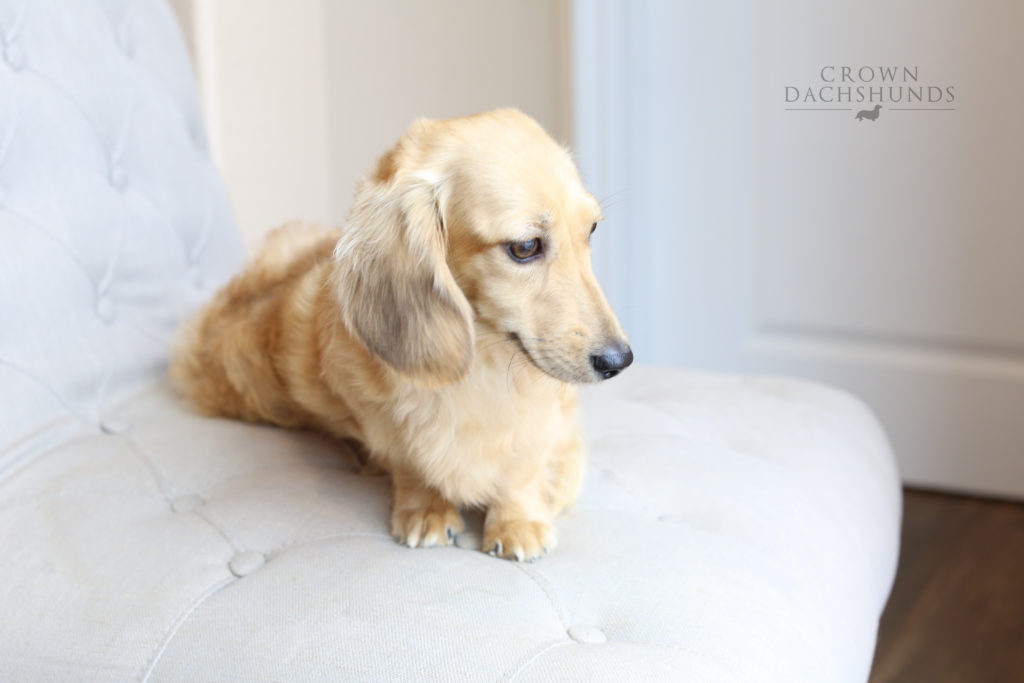 Our sweet Lizzie is a second generation Crown girl, her Sniffntells daddy Cotton has sired many beautiful Crown puppies. She is a mischievous, smart and loyal little girl, weighing a petite 8.5 lbs and has the fullest, fluffiest hair. We are expecting gorgeous shaded cream puppies from her.
Crown Primrose my Fairlady MLC
"Rosie"

Rosie is just as easy-going and sweet as can be. Believe it or not, as gorgeous as this girl is her personality is so much more beautiful! We love how smart and eager to please she is too. She's gentle and confident. Rosie is a longhaired miniature pale cream girl weighing 12.4 lbs. She loves napping, loves attention, and of course snacks!
Crown Queen of Pearls MLC
"Pearl"
Pearl is an easygoing, low key girl with a hint of shy. Her daddy is our (now retired) Percy who was Mr. Mellow and she definitely takes after him. She loves to sun on the patio and is so patient with kids. Just don't mess with her food! This girl can eat like a horse : ) Pearl is a pale English cream mini dachshund and weighs 10 lbs.
Crown Louisa Lady in Waiting MLC
"Lulu"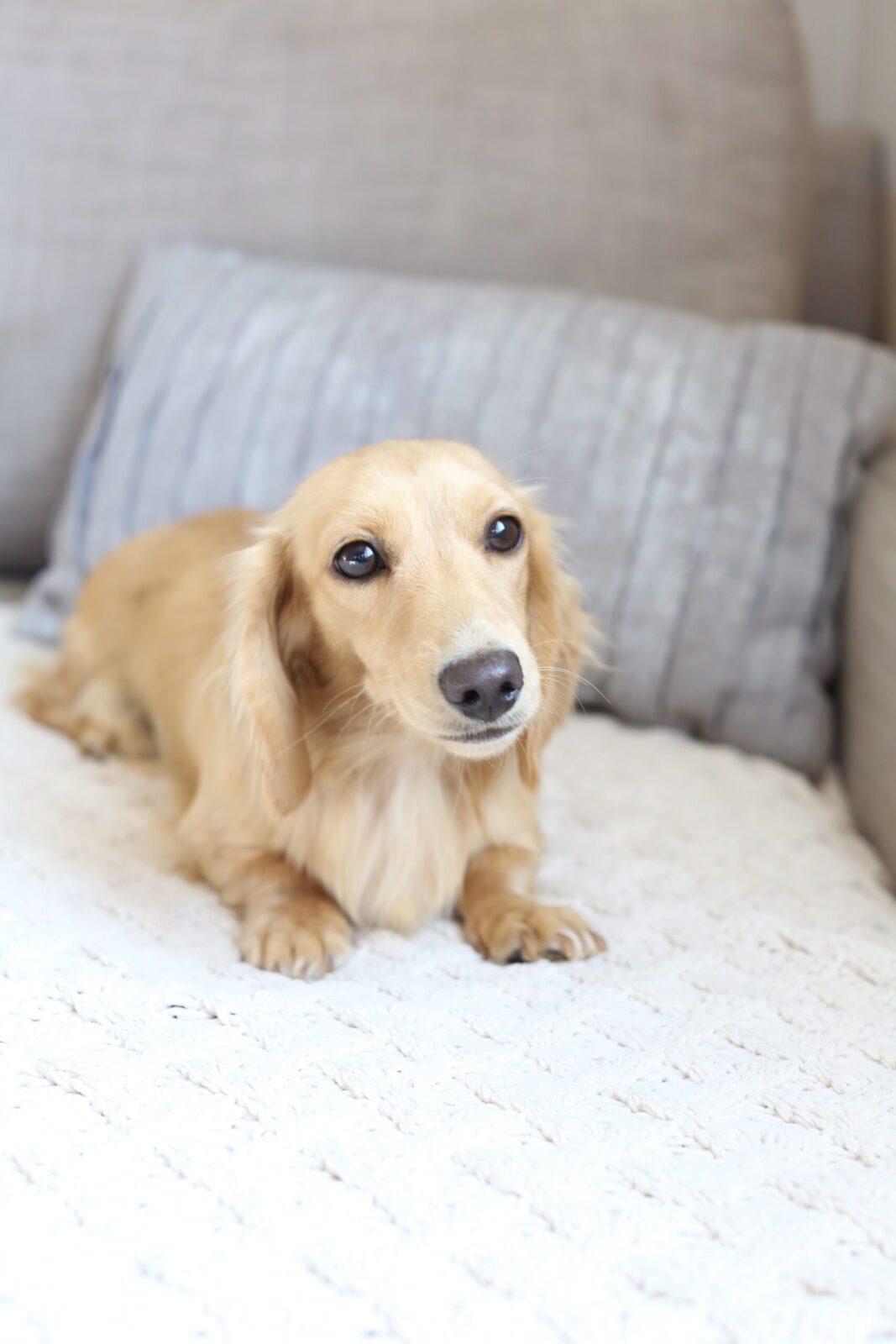 Lulu is a gentle happy girl and very protective of her family. She is smart and beautiful, we feel that she has perfect conformation. The shortest little legs and perfect topline. Lulu is a pale English cream longhaired mini dachshund weighing in at 9 lbs.
Crown Covergirls Countess MLC
"Coco"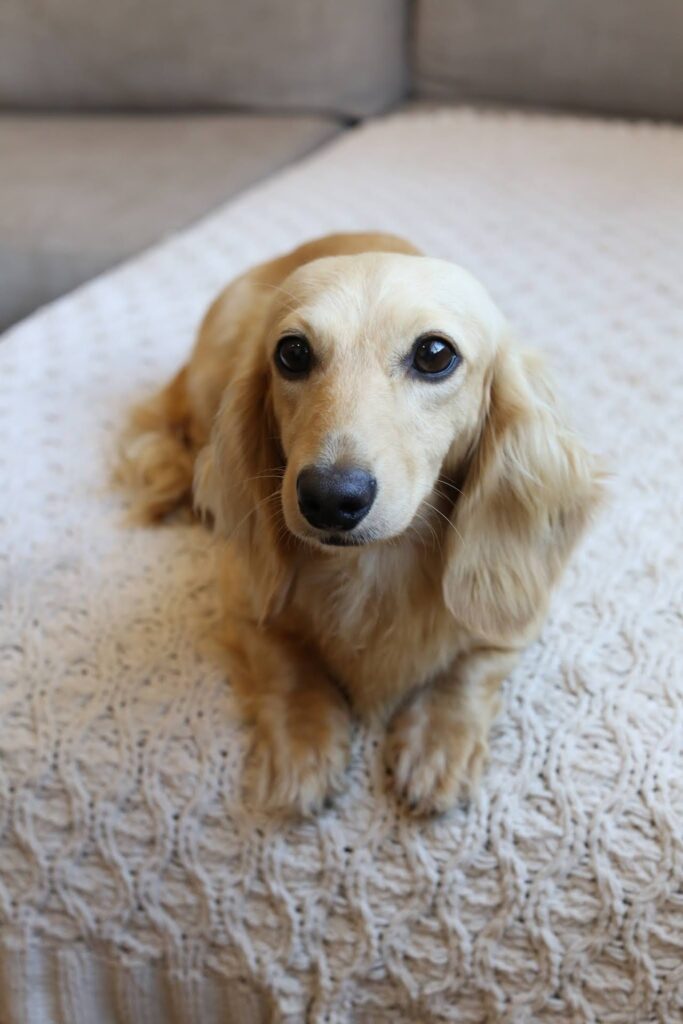 Coco is a sweet, shy, happy girl. She loves to get belly rubs and is very gentle with kids and visitors. Her eyes are incredible, but her snuggles are even better. Nobody loves snuggling like this little girl. Coco is a pale English cream longhaired mini dachshund weighing at 9.8 lbs.
Crown Charlotte Pretty in Pink MLC
"Charli"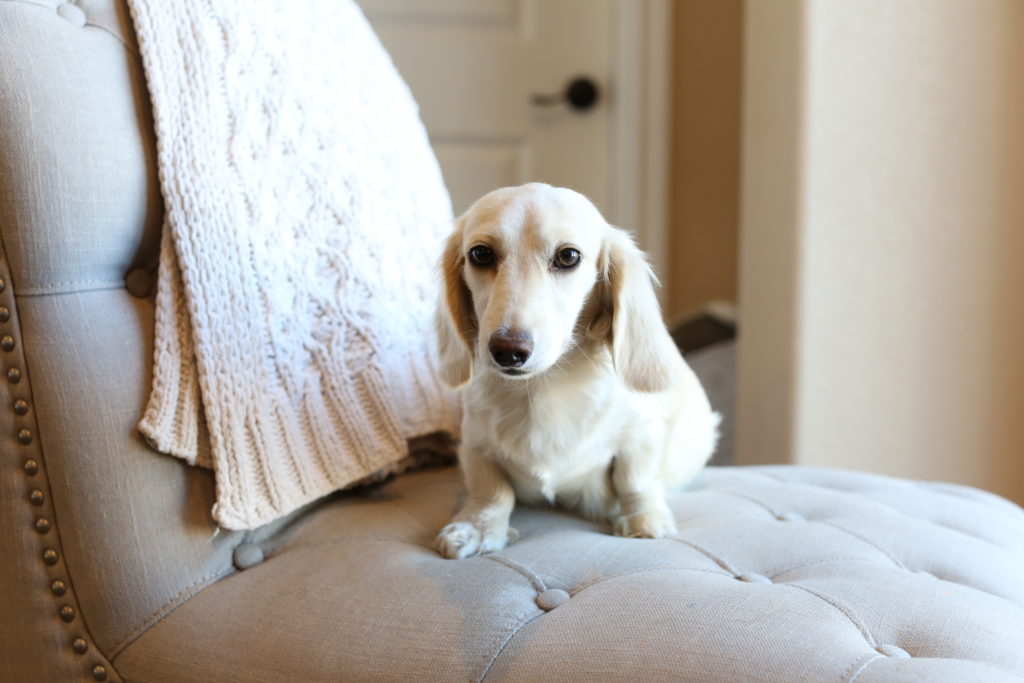 Charli (pronounced Charlie) is a shy, loving sweetheart with a playful side. She has the lightest blonde coat and we are expecting some gorgeous pale cream babies from her. Charli is a pale cream English cream longhaired mini dachshund and weighs 9.5 lbs.