We are so proud of our sweet girls, each one has unique qualities that make her special. Mamas vary in size from 8 – 13 lbs and personalities range from shy and snuggly to active, social and confident. All our dogs are affectionate and loving. 
Keep in mind we are a small family breeding network, so not all our Crown mamas are listed here. As part of our extended Crown family, our close friends and family all have the same level of quality and the same/similar lines.
Crown My Fairlady MLC
"Daisy"
Daisy really loves attention, belly rubs, being held and playing with anyone willing to run around with her. She has a social, loyal little personality and craves being close. If she can be on your lap she'll take the opportunity every day of the week. Daisy is a third gen Crown mama (Kasper's daughter) and is an  English cream longhaired mini dachshund weighing at 10.8 lbs.
Crown BLUEBIRDS BALLAD MLC
"Birdie"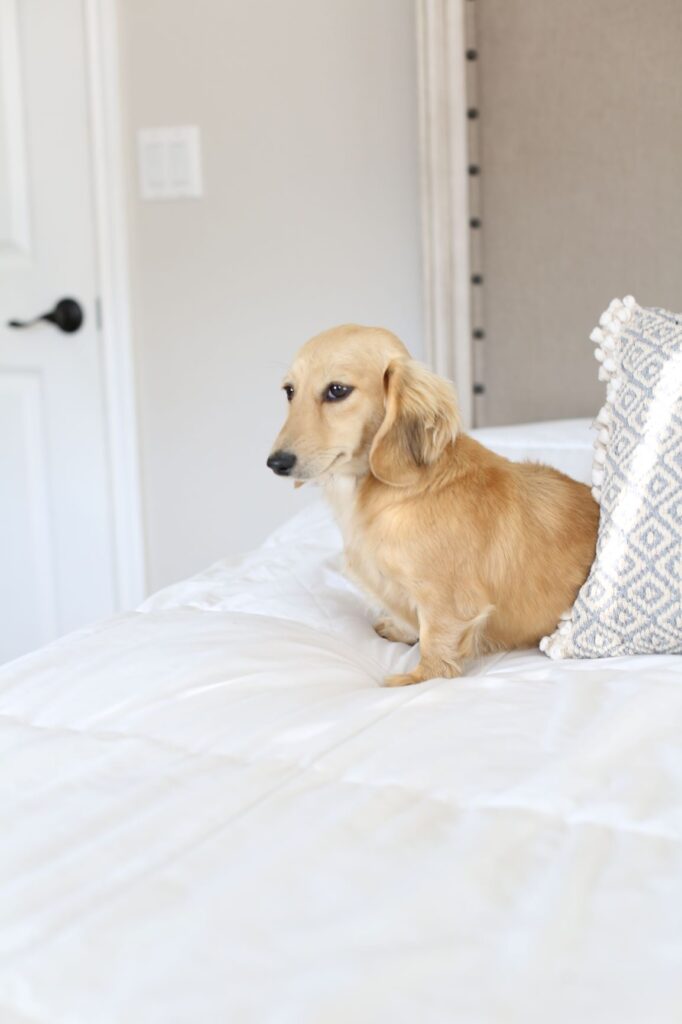 Birdie is a sweet loving little girl, one of our gorgeous 2nd generation mamas. She's a little shy when she first meets you but quickly warms up to anyone, especially if there are belly rubs and treats involved! She is gentle and eager to please. Birdie is a long-haired shaded cream miniature dachshund and weighs 10 lbs.
Crown Roses are Red MLC
"Mila"
Mila was house-trained from day 1. She has been a smart, sweet little lady and loves people and kids. She is the right mix of outgoing and friendly without being extra energetic or active. She enjoys meeting new people but really loves her family. Mila is a long-haired pale cream miniature dachshund and weighs 10 lbs.
Crown Fairy's Treasure MLC
"Fairy"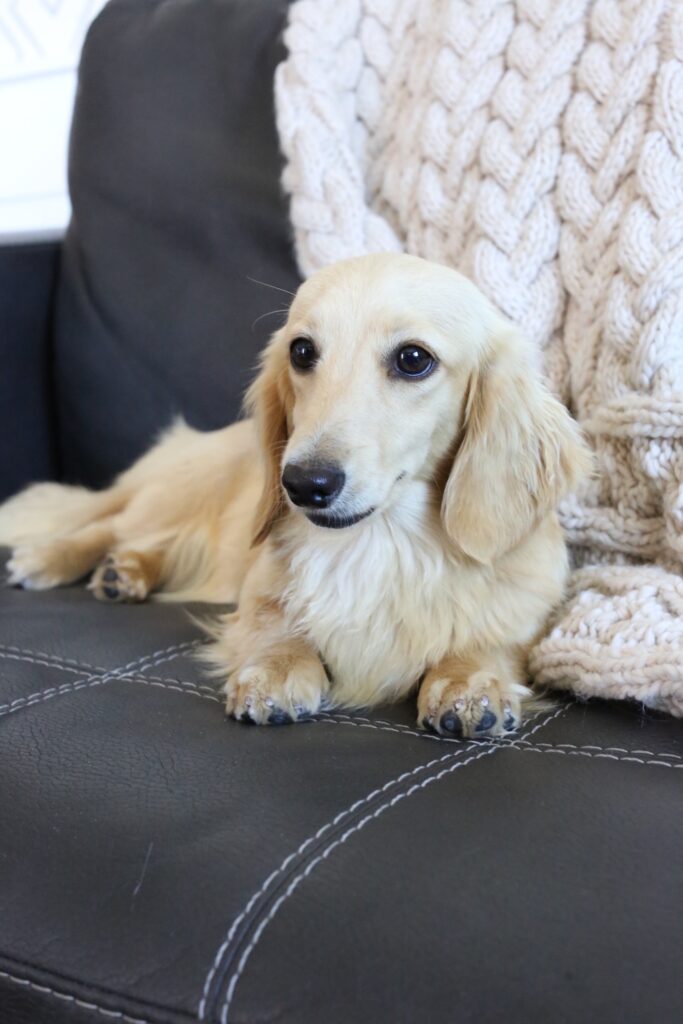 Fairy is our go-getter and social butterfly. She needs to know what is going at all times, really loves to be involved and also has a gentle mellowness about her. She is one of our Avery/Monte pups and came from a litter of 8! That must have taught her to love life because she is a joy and very playful and happy. Fairy is a pale cream longhaired miniature dachshund and weighs 11 lbs.
Crown olivia's Legacy MLCP
"olive"
Olive is a 3rd generation Crown mama. She has the same personality as her grandpa Percy, laid back, happy go lucky, very affectionate and mellow as can be. She is a gentle, wonderful girl.
She is a longhaired pale cream piebald miniature dachshund and weighs 12 lbs.
Crown Bouquets 'N Tiaras MLC
"Josie"
Josie is a 4th generation Crown mama, Camden's daughter and Georgie's granddaughter. She loves, even insists on belly rubs just as often as possible. She wants to be doted on and is half princess half diva. She is very gentle and friendly with kids and cats.
Josie is a longhaired pale cream miniature dachshund and weighs 11.8 lbs.
Crown Blossom's Blush MLC
"Blossom"
Blossom is a very loving, inquisitive, mellow girl. She has never met a stranger, her heart holds love and joy for every new person she meets. She is very food motivated, loves sniffing around for treats and is content with couch potatoing or adventuring outside. She's very adaptable and eager to please, her natural beauty is only surpassed by her fun, pleasant personality. Blossom is a black and cream dapple and weighs 11 lbs.
Crown Primrose 'n lilies MLC
"Lily"
Lily is our shy beautiful girl. Sisters with Mila and 3rd generation Crown dachshund, Lily has a sweet gentle heart, she really likes kids and other dogs but takes her time with new experiences and is shy with strangers. She is a very sweet, intelligent girl, always aware of what's going on yet not a barker at all. Lily weighs 12 lbs and is a longhaired pale cream dachshund.
Crown Pearl at CambrIdge MLC
"Ruby"
Ruby is one of our upcoming 2024 mamas